So, it's day three without power, you're bundled up and still cold, there's a leak that just won't quit, and not only is the snow barricading you in but so is the neighbors fallen tree. Does this sound like you this winter? Schaefer Inspection is here to help you prepare your home for this coming winter. Even if you don't take all our advice, pay attention so you don't end up like this guy.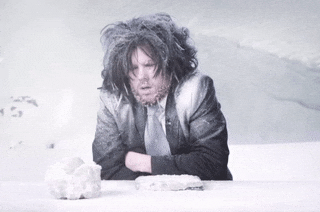 1. Seal
any

air leaks.

According to House Logic, these air leaks can cost you up to $300 a year in heating and cooling. Start off with windows and caulk around the edges of windows then follow up by weather-stripping. Remember that windows and doors are not the only places air can escape, look at plumbing pipes and vents. If you do come across any pipe or vent air leaks, try using a foam sealant.
2. Check your heating system.
It's better to be safe than sorry, so make sure to get your heating system inspected by a professional. Check and replace the furnace filter monthly in the winter. Dirty filters reduce furnace efficiency and drive up heating bills. (They also shorten the life of the furnace.)
3. Clean the gutters.
When gutters are clogged, rain and melted snow can cause leaks and damage. Snow guards are a great way to prevent snow and ice from sliding off the roof and causing damage.
4. Reverse your ceiling fans.
Here's a tip you probably didn't know, in the winter you want to set your ceiling fans to spin clockwise. When the fan is spinning clockwise it pushes the warm air that has risen back down.
5. Check your fireplace.
Make sure your fireplace is clean, free of cracks and debris, and is not drafty. Ensuring your fireplace is in tip top condition will help prevent heat loss through the chimney.
Schaefer Inspection understands that buying and selling a home can be stressful but so can maintaining a home. As we always say, with the proper maintenance you can prolong the life of systems in your home. Schaefer Inspection Service has over 35 years of experience in the home inspection industry, so we've learned a thing or two over the years. Take a look at our 4.9/5 Google review rating. Call and schedule your home inspection today at (800) 345-2776!